Custom branded bamboo wine tables with four glass holder slots.
The perfect promotional product for the summer.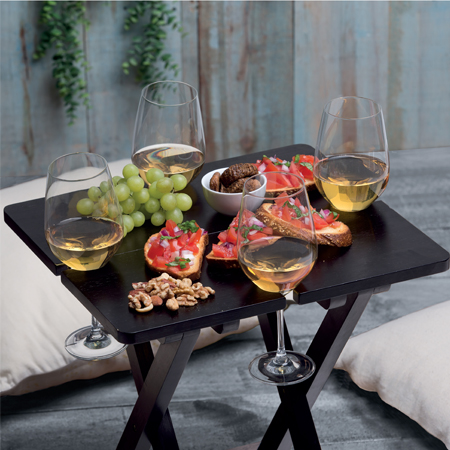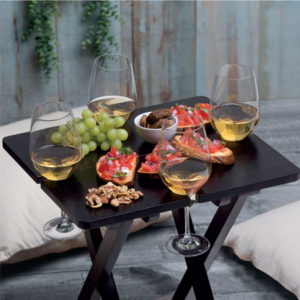 Use as a mini picnic table, or for cheese and snacks along with your favourite wine. Looking to make an impression with your next custom branded promo?  Everyone loves a day at the park, especially with a few friends and a bottle of wine. Green grass, the warm rays of the sun, and beautiful blue skies. These tables are perfect for summer and spring, but can be used all year long and are a game changer for any outdoor events.  Our range also includes smaller (and larger) tables if you are looking for different options to consider. Our Largest table has cut outs for eight wine glasses along with two custom cut areas for wine bottles.
If you aren't inspired yet, here are 10 reasons why wine tables make the perfect branded gift.
Easy to carry and distribute, making this a "must have" item that people are sure to hold onto.
Keep your wine from spilling by using the custom cut glass slots.
Enough room to include cheese, crackers and snacks.
Beautiful laser engraved branding available.
Provided with a an easy to tote carry bag.
Every order placed helps plant a tree in Australia.
Can be used almost anywhere, parks, beaches, camping, and hiking.
The average person picnics three to four times a year (providing lots of brand exposure).
These tables are retail quality with an incredibly high perceived value.
You can't go wrong with anything that helps people enjoy wine.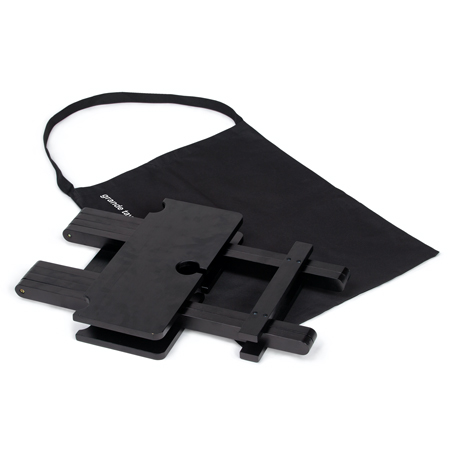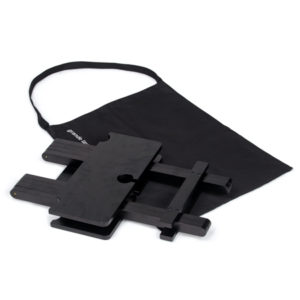 While these tables are an impressive gift on their own, they can easily be added to gift hampers or gift boxes. Throw in some local cheese and wine, a few sweet treats, some savory snacks, and a picnic blanket and upgrade your gift to the platinum level. If you'd like to explore building a custom hamper or gift our team is here to help. We can help procure the items, sort out assembly, and arrange individual deliveries to each of your recipients.
After all, the best part of promotional merchandise and corporate gifts is in the product selection. Let us worry about the logistics and we'll make sure you and your customers/staff/network have an amazing experience. We also have a massive range of top trending promotional merchandise you can pair these tables with on our main site which you can view here.
Materials
Bamboo is one of the world's most sustainable materials and can grow up to 1 meter per day. Bamboo does not require fertiliser and self-regenerates from its own roots. Learn more about how bamboo is grown by clicking here. Bamboo includes some of the fastest-growing plants in the world, due to a unique rhizome-dependent system. Some species of bamboo can grow 910mm (36in) within a 24-hour period, at a rate of almost 40mm an hour (equivalent to 1mm every 90 seconds). This rapid growth and tolerance for marginal land, make bamboo a good candidate for afforestation, carbon sequestration and climate change mitigation. Choosing bamboo made products has a massive impact and is a great eco-friendly resource.
Size
Foldable/Packable – aAlfresco table with four integrated wine glass holders. Carry bag with shoulder strap (46.5cm W x 63cm H)
Assembled: 40cm W x 49.5cm H x 36cm D
Folded: 40cm W x 6cm H x 57.5cm D
Branding Options
Our team recommends laser engraving because it's beautiful and will last the life of the product. There are other branding options available, including custom branding on the carry bag. All maximum imprint areas are shown below, but we are happy to provide suggestions to ensure the best branding possible. If you would like to see a mock up prior to placing your order please get in touch with our team.
Screen Print on Table Top: 40mm W x 60mm H
Laser Engraving on Table Top: 40mm W x 60mm H
Screen Print on Carry Bag: 200mm W x 200mm H
Digital Transfer on Carry Bag: 200mm W x 200mm H