RPET Elegant Laptop Bag
An elegant gift idea for the trendy student or executive
Elegant nature line document bag in resistant 600D RPET melange effect with black details. Includes padded interior compartments to fit computers up to 15 inches and tablets up to 10 inches, zipped outer pocket, adjustable shoulder strap and reinforced handles. It features a rear accessory for your travel trolley/suitcase attachment. 600D RPET melange effect, made from recycled plastic. Distinctive RPET outside label.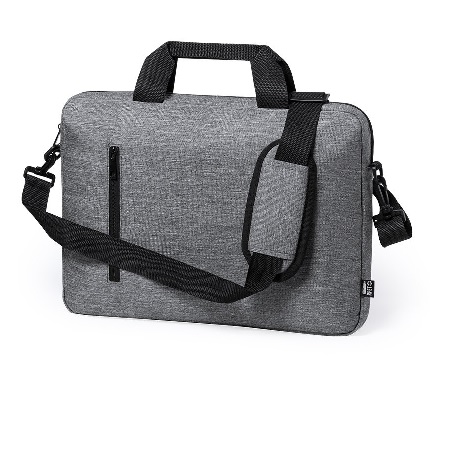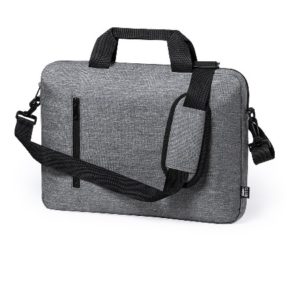 The laptop bag has a distinctive RPET label so you can show off that you are doing your bit for our beautiful environment and encouraging others to do the same. The more material that is recycled and re-used, the less single- use plastics, the better off our oceans will be! Branding this laptop bag with your logo can affiliate your eco-conscious business to show the world that you are loud and proud for making a stand against single use plastics. These types of materials are our future as we learn to process both sustainable and recycled products to make them into everyday materials. Who would have thought you could turn a plastic bottle into a soft and trendy material.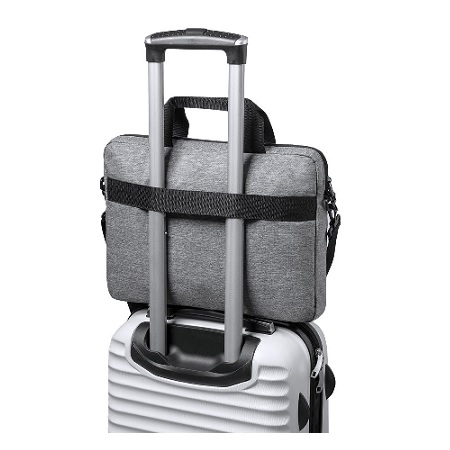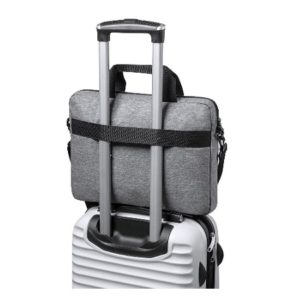 If you aren't inspired yet, here are 10 reasons why this product is for you…
Forget single use plastics, this little document holder is made from recycled water bottles. How good is that!!
 Great for students and executives. Look stylish and elegant with this laptop bag, matches with anything.
Super on trend heather material
This RPET Elegant Laptop bag has a real European retail feel. Hipsters, TREND alert!!
Perfect for Universities, Schools, Travel, Executive's, New Starters, Staff gifts/incentives or your daily commute
Every order placed helps plant a tree in Australia.
Can be used almost anywhere and everyday. That's value for money!
This is part of a matching set. More matching products include an Anti-theft backpack and a stylish folder all made from RPET.
Large branding space to get your brand or logo out there. Everyday commuters can be showing off your brand daily. That is so much exposure! Or be subtle and stylish with a beautiful laser engrave.
Really good quality, strong and durable. After all its plastic.
The best part of promotional merchandise and corporate gifts is in the product selection. There are some fabulous similar items that you can match up and pair with this folder. See below in "You may also like…" Let us worry about the logistics and we'll make sure you and your customers/staff/network have an amazing experience. We also have a massive range of top trending promotional merchandise you can pair this backpack on our main site which you can view here.
Materials
Size
38 x 28 x 5 cm | 250 gr.
Branding Options
There are a few branding styles for this laptop bag. Screen printing this bag which gives you a large print area if you want your logo to sing.  If you want your logo to pop, we can supercolour which is full colour branding. What would make this bag even more elegant and stylish would be a metallic supercolour transfer. WOW! All maximum imprint areas are shown below, but we are happy to provide suggestions to ensure the best branding possible. If you would like to see a mock up prior to placing your order please get in touch with our team.
Screen Print: 100 x 100mm
Supacolour: 100 x 100 mm,
Supacolour Metallic Bag A6:  150 x 105mm