Custom branded reusable bamboo tote bag.
Reusable tote bag which is manufactured from 100gsm bamboo viscose with long handles so it can be carried on the shoulder. They are a fantastic alternative to the harmful, single-use plastic bags. These bags are amazing for your company's image, and show that you care about the harmful impact that single-use plastic bags can cause.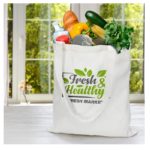 Using reusable bags promote your business identifies you as a socially responsible organisation, playing your part in the worldwide campaign to rid the planet of plastic shopping bags.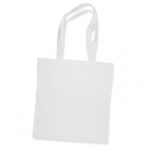 If you aren't inspired yet, here are 10 reasons why reusable bamboo tote bags make the perfect branded gift.
Easy to carry and distribute, making this a "must have" item that people are sure to hold onto.
Promotes a socially responsible organisation
Eco friendly natural alternative to single use bags
Combine creativity with sustainability to represent your brand.
Great for groceries and general shopping
Every order placed helps plant a tree in Australia.
Can be used almost anywhere, parks, beaches, camping, shopping, events
Customers gain a reliable product that has a variety of different uses
xxxxx
xxxxx
Materials
Bamboo is one of the world's most sustainable materials and can grow up to 1 meter per day. Bamboo does not require fertiliser and self-regenerates from its own roots. Learn more about how bamboo is grown by clicking here. Bamboo includes some of the fastest-growing plants in the world, due to a unique rhizome-dependent system. Some species of bamboo can grow 910mm (36in) within a 24-hour period, at a rate of almost 40mm an hour (equivalent to 1mm every 90 seconds). This rapid growth and tolerance for marginal land, make bamboo a good candidate for afforestation, carbon sequestration and climate change mitigation. Choosing bamboo made products has a massive impact and is a great eco-friendly resource.
Size
H 415mm x W 380mm (excludes handles)
Handle Length: 650mm
Branding Options
Our team recommends screen printing because large print areas are possible on flat products and close PMS matches are possible on white or light-coloured products. There are other branding options available, including Colourflex Transfer on the bag. All maximum imprint areas are shown below, but we are happy to provide suggestions to ensure the best branding possible. If you would like to see a mock up prior to placing your order please get in touch with our team.
Screen Print on front: 250mm W x 200mm H
Colourflex Transfer on front: 250mm W x 200mm H
Colours
White